Resilient. Funny. Smart.
Esnart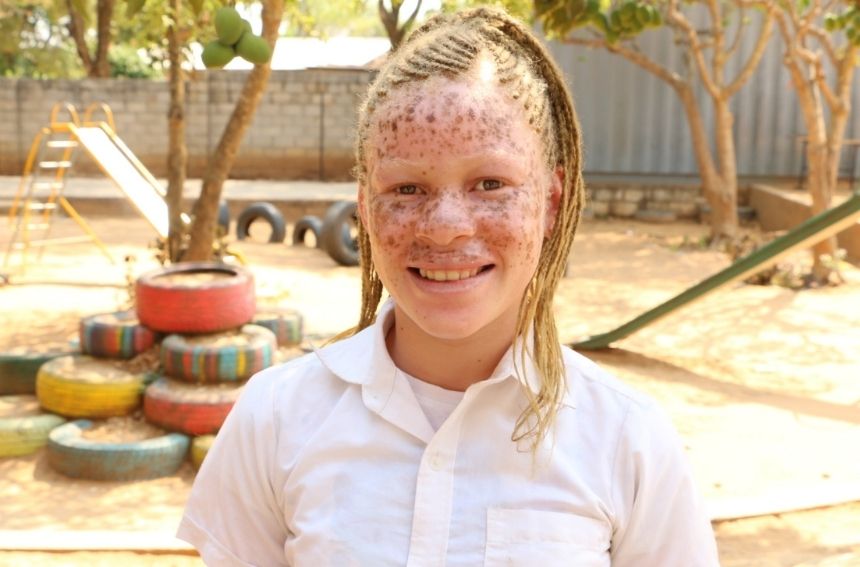 Meet Esnart
Esnart is currently in 3rd grade at Taonga School. In school, Esnart is loved by her friends. She is respectful towards her teachers and listens to instructions in class. She loves learning about science. Esnart likes going to church on Sunday with her friends. During the holidays, Esnart likes to go and visit her relatives. Esnart is known for being smart, funny, and resilient.
Esnart is the only child in her family. Her father lives in the village and we do not know a lot about him. When Esnart first started in our sponsorship program in 2019, she was living with her mother, aunt, and some cousins in a one room house. Her mother is disabled, making it difficult to find a job and care for Esnart. Esnart's mother also has a drinking problem which means she spends a lot of her time in bars. Immediately, we knew the challenges Esnart's mother faced would affect Esnart and we planned to provide assistance when needed. Esnart is an albino child meaning she faces additional health and societal hardships. Albinos have to be incredibly tough and have to stick up for themselves. Over the past two years, Esnart's home situation has worsened to the point that we need to step in in a more permanent way. It became evident that Esnart's mother has become so preoccupied with drinking that she doesn't care for her daughter's needs. Esnart will transition to our full-time care in the Arise Homes in January 2022. In the meantime, she will be living with the Masabarakiza family. The parents, Emile and Florence, are incredible. Emile is the pastor for Twin Palm Baptist Church, a local church who we closely partner with. Florence is the reason we even have Esnart in our sponsorship program! She led a Bible study in Bauleni, the compound where Esnart lives, heard about Esnart, and brought her to our program. Florence is also the 5th grade teacher at our school and she will bring Esnart to school everyday.  
We believe this transition to the Arise Homes will be the best thing for her and we can't wait to see how God continues to work in her life!